DC Scope compatible with the Private Cloud OVH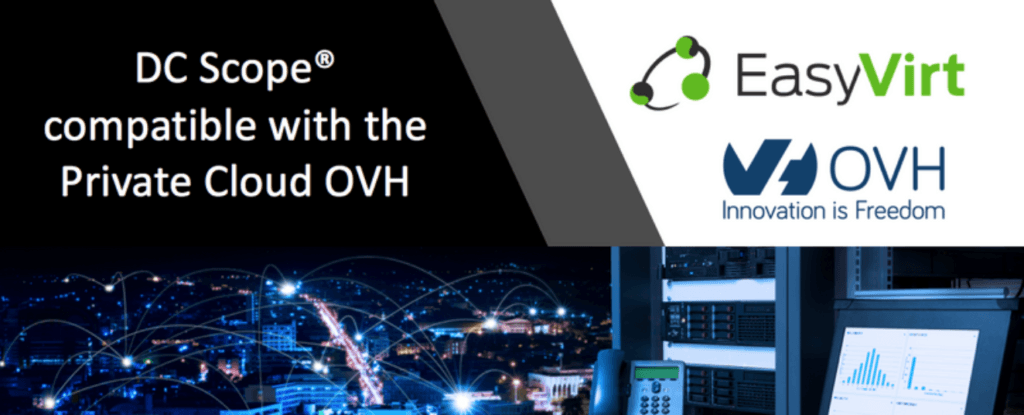 EasyVirt is proud to announce its new collaboration with the global cloud provider OVH. All customers of OVH in the segment of Private Cloud can now use the solution DC Scope on their infrastructure. OVH has validated the compatibility, interest and benefits of the solution for its customers. DC Scope is an extremely powerful monitoring and capacity planning solution. Simple and intuitive, it allows to drive and optimise VMware infrastructures effortlessly and for a reduced price. DC Scope brings perfect visibility and proactive analysis as well as strategic predictive reports.
For OVH, this is an opportunity to expand the offer of management tools compatible with its solutions of Infrastructure as a Service. DC Scope is a very efficient solution, adapted to medium-sized infrastructures and that has proven its capabilities in the French market.
According to François LOISEAU, Technical Director of the OVH Private Cloud: "This agreement is part of OVH's desire to provide its customers with the best solutions on the market and also to animate and support the French technological ecosystem. "
The CEO of Easyvirt, Martin DARGENT, quoted that: "We are very pleased with the trust placed by OVH in this collaboration which constitutes the European alternative in the cloud. We are delighted to offer the potential of DC Scope to all customers in the Private Cloud of OVH. "
To go further, nothing simpler, the installation and deployment is done in only 15 minutes. Free trial and deployment from the site EasyVirt: https://www.easyvirt.com/installation-dc-scope/
About OVH
OVH is a global hyperscale cloud provider who offers businesses a benchmark for value and performance in that sector. Founded in 1999, the group manages and maintains 27 data centers in 12 locations across 4 continents, has its own global fibre optic network, and manages the entire supply chain for web hosting. Running on its own infrastructures, OVH provides simple and powerful tools for businesses, revolutionizing the way that more than 1 million customers work across the globe. Respect for people's right to privacy and equal access to new technologies are central to the company's values. For OVH, "Innovation is Freedom".
About EasyVirt
EasyVirt is a French company specializing in IT and virtualization efficiency. The software solutions offered by EasyVirt make easy to manage and optimize the use of IT infrastructure (servers and switches). DC Scope is a intuitive solution to drive virtualization and that meets the expectations and real needs of IT departments. The solution offers many features such as: monitoring, capacity planning, troubleshooting, optimization recommendations, identifications of atypical VMs, cost management, energy consumption, automatic reporting, KPIs …