You've probably seen some enthusiastic feedback on social networks, from virtualization expert bloggers to whom we allowed DC Scope® V6 preview test.
In a unanimous way the new features have been appreciated. Now judge by yourself.
Cédric Vblog.io – Easyvirt DCScope v6 preview :
https://vblog.io/easyvirt-dcscope-v6-en-avant-premiere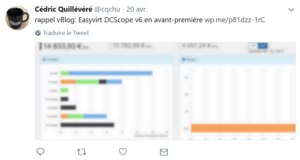 «As with each new version, DCScope v6 brings new refinements to existing functions while developing its functional coverage. The cloud pricing offer is one of the big news for me, especially since its use is perfectly in line with the general approach of the product: pragmatic and easy to handle!»
Noham MyVMWorld – Is there a driver in my infra ? DC Scope® v6 by EasyVirt :
https://myVMWorld.fr/pilote-infra-dc-scope-easyvirt/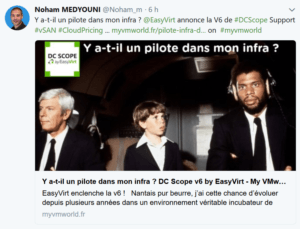 "DC Scope® makes it possible to manage in a very simple and very clear way the virtual data center. The positioning of DC Scope® is based on a simple solution to implement and financially affordable.
DC Scope® displays resources consumption data for hosts, clusters, data stores, and virtual machines individually."
(ESP) Raul Unzue Pulido – Maquinas Virtuales, El blog de Negu : DCScope de Easyvirt Version 6
https://www.maquinasvirtuales.eu/dcscope-easyvirt-version-6/

"Esta nueva versión se ve mucho más optimizada y con varias novedades en su haber. Por ejemplo, podréis encontrar estimaciones para infraestructuras cloud, algo a lo que se va tendiendo, y que puede ser interesante si estáis pensando mover vuestro negocio a la famosa "nube". Por supuesto, Amazon EC2, Microsoft Azure y Google Cloud están en el listado »
A big thanks to them for their constructive opinion as well as their neutrality.
So it's official the DC Scope® V6 is available now. Find in this new version, new features, improvements and always the same guideline «answers to customer needs and ease of use»
Here's the list of the main novelties:
– New "Cluster Summary" view: information about the cluster's capabilities in terms of resources and functionality. (Allocation of resources, resources consumed, distribution of resources per server)
– New "ESX synthesis"view : distribution of consumption, evolution of resources, troublesooting.
– VSAN integration: DC Scope® V6 is now compatible with VSAN.
– Multi-user management improvement; new possibilities (restriction of the perimeter to certain users).
– Comparison of two virtual machines. In "Graph On Demand" section it is now possible to compare the behavior of two virtual machines
– Simplification of management / cost setting
– Implementation of a new optional module: "Cloud Pricing".
Automatically calculate the costs of your infrastructure in the public cloud (Amazon EC2, Azure and Google) …
(Ideal for infrastructure managers and consultants.) Provides factual and tangible data on cloud costs, which are often more expensive than we think …)
It's your turn now to try DC Scope…