DC Scope® improves the visibility you have over your infrastructure, enhance the communications in your team and provides you with factual information of the status of your datacenter. The solution allows you to make informed decisions and with real information of the behaviour of your infrastructure.
Easyvirt will be participating in the VMWorld 2019 as a New Innovator! We will be presenting DC Scope®, the intuitive and cost-effective monitor and operations manager for VMware. In France DC Scope® has been widely known over the last years, but this time we will be taking our solution to the big leagues on the VMWorld 2019 in Barcelona.
Who are we? What are we doing? Why are we doing it? We are answering all these questions in a few short episodes!
Improve visibility
Stop using that spreadsheet as an inventory for your infrastructure!
Visibility means knowing what you have? where is it? and how is it? DC Scope® provides a detailed overview of datacenters, clusters, servers and virtual machines. In just a few clicks you will be able to identify all the elements that you have in your infrastructure in a graphical and simple interface. DC Scope® can also provide you with detailed metrics of the current and past behaviour of your datacenter and allows you to create graphs to compare virtual machines, Servers, resources and counters. Additionally, the solution helps you to track the status, behaviour and costs of all these elements.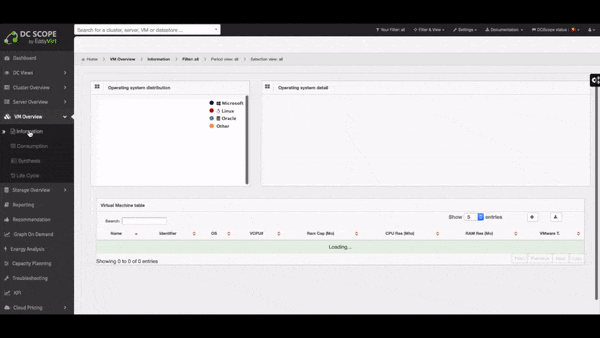 Better Planning
Making decisions based on your gut feelings?
DC Scope® helps you to make the right decisions by providing factual information of the behaviour and status of the infrastructure. Run simulations to quickly understand and adapt the capacity of your infrastructure to face new projects: add virtual machine's, delete servers, etc. With DC Scope® you can combine different scenarios to test a project before it starts. The solution also analyses the performance of your infrastructure, the trends of creation and deletion of virtual machines and provide you with the dates where you need to add more resources.
Planning to move to the Public Cloud? DC Scope® simulates the cost of your virtual machines in the public cloud based in the resource allocation of each virtual machine. The Cloud pricing module allows you to compare the costs of your virtual machines on-premise and on the Public Cloud of OVH Cloud, Amazon EC2, Microsoft Azure and Google Cloud.

Enrich reporting & communication
No more sticky notes on your screen
DC Scope® can generate automatic and customisable reports to share the right information to the right audience. No more hours organising pivot tables or giant spreadsheets to show your managers the status of a cluster. No more hours trying to discover when a virtual machine was moved to a different server. DC Scope® tracks all the information of the virtual machines, servers and clusters and allows you to issue a complete report in just a few seconds.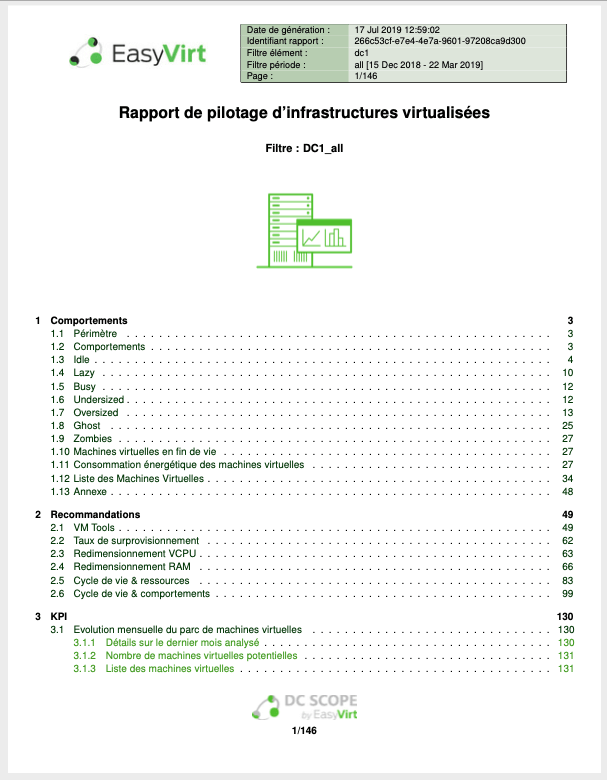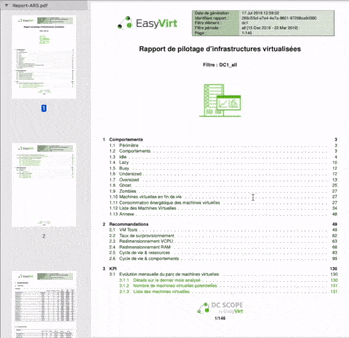 Key Performance Indicators
With DC Scope® you can easily export Key Performance Indicators of the infrastructure: monthly evolution of virtual machines, trends, health status of the virtual machines, evolution of costs, capacity and activity trends, etc.