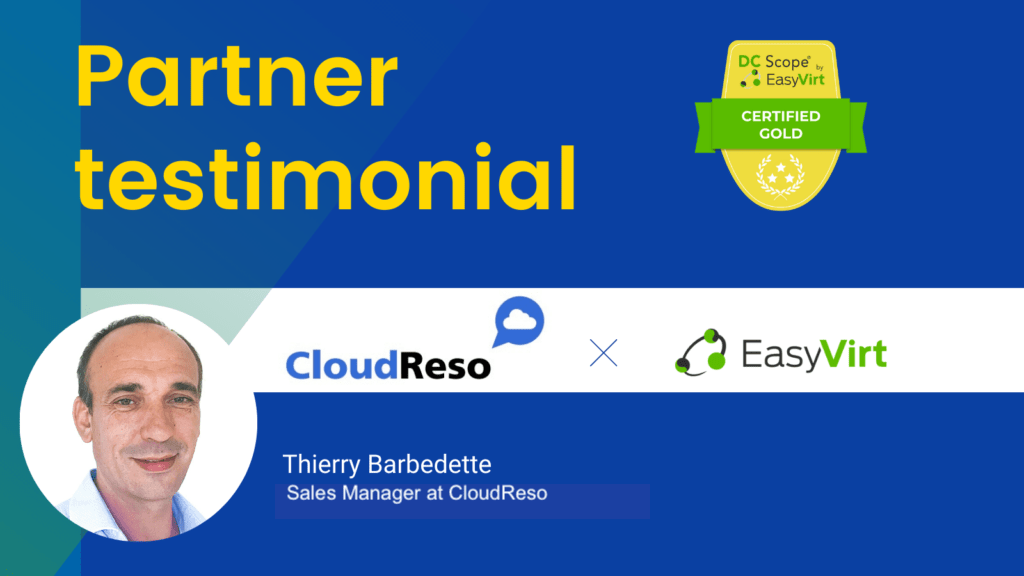 Thierry Barbedette, introduce us to CloudReso in a few words:
We are a distributor of value-added solutions and offer solutions that have been validated and perfectly mastered by our technical team, which is now composed of 6 people (virtualization and cloud specialists).
Why did you choose EasyVirt and its solution DC Scope®?
We have been distributing VMware solutions for almost 10 years now. During this time, we have tested many monitoring solutions on the market, including Veeam One. During those tests, we became interested in DC Scope®. The solution's advanced technical approach, log analysis, and Easyvirt's monitoring module (Graph on demand) were the key elements that impressed us and the cost management and tracking module convinced us. This solution is ideal not only for us but also for all our resellers and hosting customers.
How does DC Scope® fit into your value proposition?
The product integrates securely into all our customers' environments. This allows us to offer the solution as a subscription, whether in SAAS or On-Premise mode. This is one of the great strengths of DC Scope ®. You can deploy the solution at your customers' sites, or offer to rent it for as long as they wish.
What kind of support do you provide for your customers with DC Scope?
The solution will enable our customers to optimize their storage and computing resources, and limit the downtime of one or more VMs, or servers. By optimizing their infrastructure (storage and computing resources, etc.), our customers will be able to save money (better amortization and increased margins) while performing well from an operational standpoint. The solution with all its modules is a turnkey solution with a simple implementation. This allows us to support our customers well beyond their expectations.
What is the business impact for CloudReso?
Marketing DC Scope ® is a fundamental step for CloudReso. We have high expectations of this partnership, as we believe in the potential of this solution. We are convinced that the modules of cost of management and optimization are a must for any CIO and CTO looking for a better ROI for its infrastructures.
Three keywords to summarize your relationship with EasyVirt?
The following combination: Partnership + Excellence + Support
An initial overview of this partnership?
CloudReso is now a Gold partner of EasyVirt. We are going to accelerate the distribution of the solution in order to offer our customers a solution simple and effective.
What are your ambitions for next year with DC Scope?
The implementation and promotion of the offer, which we have called "MaxScope". We are going to address it to our reseller and partners as a monthly rental / VM service in order to reach the maximum number of customers by the end of December.