Operations Manager for vSphere
Improve the efficiency of your data center and reduce costs
DC Scope® allows you to manage your vSphere infrastructure without complexity. It enhances the visibility over your data center, provides key data to increase the efficiency of your servers and enrich the decision making by providing real information about the behavior of your virtual machines.
From its intuitive interface, you can monitor your virtual machines, detect anomalies in your servers, follow the distribution of costs in your data centers, and more. The solution allows you to easily anticipate the need for resources and to simulate the addition of workloads and resources to your infrastructure.
| Monitor
Metrics – Granular logs – Alerts
DC Scope® collects, stores, and analyses the most relevant metrics of your infrastructure. It identifies issues that affect the performance of your virtual machines, servers, datastores, and data centers. With the help of DC Scope® logs and graphs on-demand, you can then go back in time to check the status of your infrastructure at any particular time.

| Optimization
| Troubleshooting
| Capacity Planning
| Cloud Pricing
| Reports
| Other features
There are other popular and over-priced tools in the market, but they tend to add more complexity to the operations. DC Scope® has been developed from the real needs of system administrators and CTOs; offering the functionalities needed in the administration of the virtual machines and the direction of the infrastructure.
Department of Drôme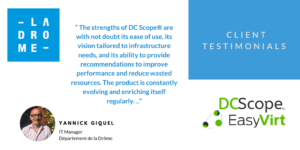 The strengths of DC Scope® are with not doubt its ease of use, its vision tailored to infrastructure needs, and its ability to provide recommendations to improve performance and reduce wasted resources. The product is constantly evolving and enriching itself regularly. …