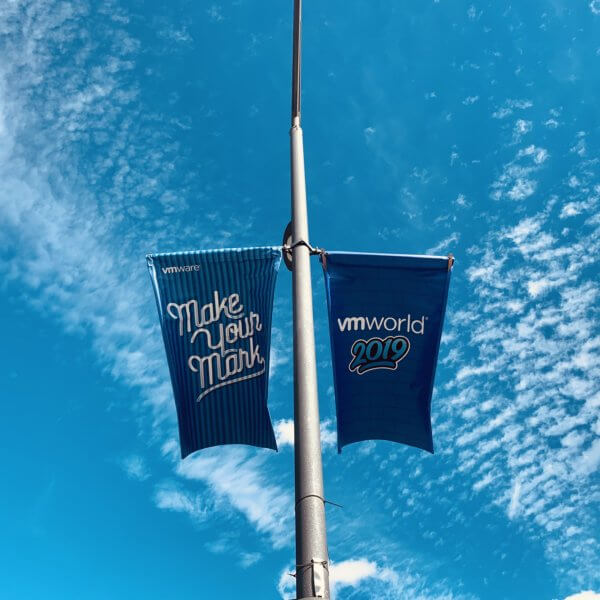 The event was a great opportunity to be closer to virtualization users but also to re-connect with clients, partners and bloggers.
VMWorld Barcelona 2019
Two weeks after the VMWorld in Barcelona we are still impressed about the organization and the magnitude of the event. As we mentioned in our previous post, this year was our first time joining the VMWorld in the category New Innovators and we are more that thankful for being part of such awesome event.
In general, the week was really loaded of events, meetings and sessions of both VMware and other sponsor of the event. For us, it started on Monday with the VMUG Pre-VMWorld with the VMUG community in Barcelona. This event, sponsored by our friends of OVH Cloud, was focused in Kubernetes and its application in the OVH Private Cloud as well as the features and integration of VMware and Kubernetes in vSphere HCI/vSAN.
The event was a great opportunity to be closer to virtualization users but also to re-connect with some clients, partners and bloggers.
During the three days that the solutions exchange was open we had the opportunity to listen the concerns and needs that virtualization users have concerning how to monitor and optimize their servers and virtual machines as well as how to effectively simulate capacity planning and understand the costs of their infrastructures.
This was the perfect opportunity to show how DC Scope® and its different modules have solved these issues by addressing real user concerns with an intuitive turnkey solution. During these conversations we also had the opportunity to share some real user cases such as the one from the well-known television network TV5 Monde, which was published in the recognized magazine "It for Business" (https://easyvirt.local/tv5-monde-rationalise-ses-serveurs-virtualises-avec-dc-scope/), and the experience, savings and fast ROI made by Groupama Rhone-Alpes Auvergne with the implementation of DC Scope® on their infrastructures.
With our participation in the VMWorld in Barcelona, we have also ensured the interest and the importance of keep working in the development of DC Scope®. To provide with a solution adapted, intuitive, easy to use and that answer real and specific needs of virtualization users.
See you next year VMWorld!