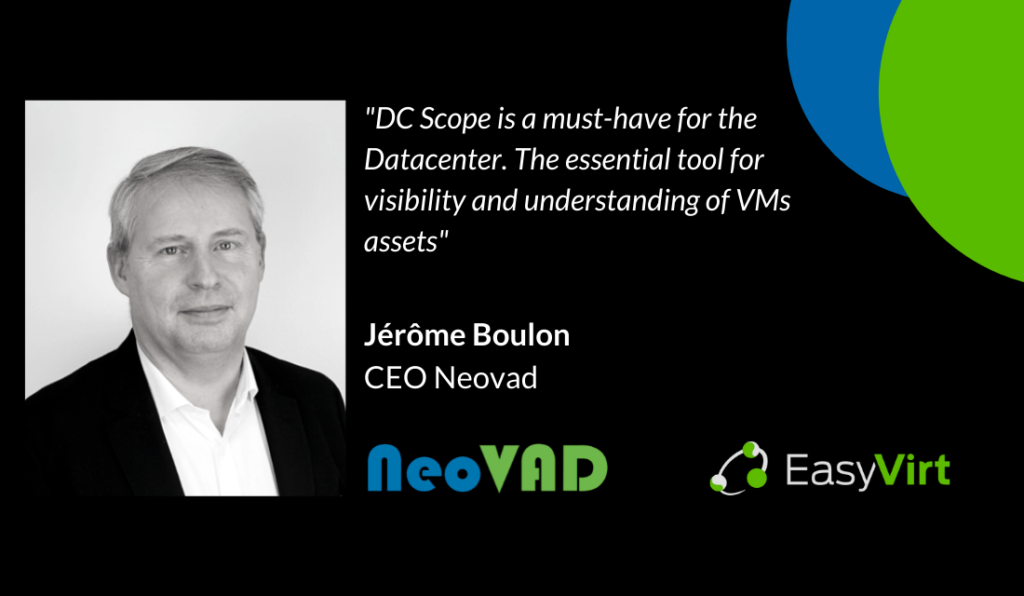 Jérôme, tell us about NeoVAD's expertise in a few words:
NeoVAD is a French value-added distributor, offering a range of disruptive and challenger software solutions on established markets.
Our offers are based on 3 axes:
User Experience (Performance, Analytics, Troubleshooting, Scaling).
Data Security and Compliance (Classification, Access Audit, Compliance Report).
Cloud and Datacenter (Interconnection optimization, Infrastructure optimization, Infrastructure patching).
NeoVAD is also a training and expertise center for each of its suppliers.
What is the profile of your customers?
We work exclusively in BtoB, with resellers of all sizes, as well as with MSPs (Managed Service Providers). The end customers who use our products are local authorities of all types (town halls, metropolitan areas, departments, regions, hospitals, etc.), small and medium-sized companies, and major international accounts, all of whom want to provide their users with optimal quality of service while reducing costs and simplifying their infrastructures.
What are the principal features that persuaded you about DC Scope?
Although NeoVAD mainly signs distribution contracts with foreign companies (US or Israel), French know-how in terms of innovation is real. Getting the word out is often more difficult than with some American companies that have many more resources for international business development.
Beyond the human values (quite similar between our two companies), EasyVirt has a technology offering a real and quick return on investment.
Understanding the placement of VMs in the data center or in the cloud allows for optimizing and better use of the infrastructure resources.
EasyVirt offers an intelligent and simple product. Everything we are looking for at NeoVAD.
If you had to summarize EasyVirt in a few words, what would you say?
DC Scope is a must-have for the Datacenter. The essential tool for visibility and understanding of VMs assets.
What is your assessment of this partnership?
To date, we are still in the construction phase but we have signed some important references. Our reseller and service provider partners are rapidly understanding the value of DC Scope. There is still a lot to be done! So we need to make the product as widely known as possible.
What are your ambitions for 2021?
The long-term goal is to see EasyVirt in the top 3 of our suppliers. With the right foundations established in 2020, we will get closer to this goal.